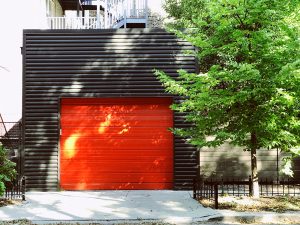 Wood or steel? That's the age-old question when it comes to installing a new garage door. Each has its own advantages when it comes to style, function, and price considerations. Wood has a naturally stylistic appeal, but can be expensive and requires more maintenance and upkeep than other garage door materials. They also can fall apart faster and be more prone to break-in. Steel doors tend to be cheaper and don't require as much maintenance.
Let's take a deeper look at these garage door materials so you can better determine which one is the perfect installation for your home.
Budget Considerations
Budget can be one of the biggest factors in determining which material to use. As a rule, wooden doors tend to be more expensive. You could consider going for a wooden composite door, which has the same look and appeal as an all wooden door, but for about half the cost.
Steel doors, on the other hand, are practical, widely available, and very affordable. If you don't go too cheap, you can get one that is highly durable and safe-guarded against burglars. They require less maintenance.
Maintenance Needs
In addition to having a higher price, wooden doors will also require more maintenance. They need to be sanded, sealed and painted every few years. You also have to safeguard the door against pests and rot.
The beauty of steel doors is they have very minimal maintenance needs. They are durable and tend to stand up against the weather. All they'll need is a coat of paint every few years — like all garage doors.
Regular Preventative Garage Door Maintenance & Repair
But all garage doors do require regular preventative maintenance and repair. This includes oiling all moving parts and components with a garage door lubricant, maintaining straight tracks and door balance, keeping up on chain and cable repairs. Being proactive on garage door repair can minimize emergencies and prolong the lifespan of your door.
The Faux Wooden Garage Door Alternative
Wood is beautiful — no doubt about it. It's natural and down to earth. But as we explained, wooden doors can be expensive in addition to higher maintenance needs. An imitation wooden door offers the best of both worlds — the natural beauty of wood without the high costs or upkeep required. Faux doors are constructed from either steel, composite or fiberglass. They're super strong, maintenance free. They don't crack, warp or rot like their wood counterparts. And depending on the quality of the door and its construction, you can get an imitation wooden door that mimics the qualities of real wood, complete with grain simulation. The other advantage to these types of doors is the insulation available.