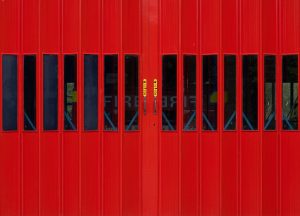 Garages have come a long way in the last 20 years. The family garage used to be a place for muddy shoes, sports equipment, a lawn mower. Maybe you managed to carve out room for your car if you were lucky. With smart tech, power for electric vehicles, and doors that are programmed to follow your voice, today's family garage has more possibilities than ever before. Let's take a look at the latest trends in garages, garage doors, and automatic openers.
Charging Stations for Electric Cars
Electric cars have become much more affordable and common place. That means many garages now feature home charging stations for your car, whether you drive a full electric model or a hybrid.
Want to up the environmental ante? You can power up your electric station with solar panels on the roof. Tesla features power stations with solar panels for the roof of your garage.
Why let that beautiful Elk Grove sunshine go to waste?
Smart Tech: Open Your Garage Door from Anywhere!
More than 40% of family homes in the US now feature smart technology — thermostats, lights, security systems, even coffee pots and of course garage doors too. Automatic doors connect to Wi-Fi that enable you to control the door with your voice as well as remotely open the door anywhere from your smartphone.
This has a number of advantages. If you have a package being delivered, the driver can call you to open the garage door to keep your package secure from neighborhood thieves while you're away. It also helps if you or the kids forgot to close the door that morning. You can also open the door to visiting house guests if you're still out doing errands.
More Comfortable Garages for Actual Living Areas
Many people are converting their garages into comfortable living spaces. You could convert the garage space into a gym, hang out area, movie house, or comfortable bar. Adding tiled floors or carpeting creates a more livable space. TVs, movie projectors, and stereos can add entertainment value.
That's one reason why garage doors that feature more windows have become more popular lately. The added natural light makes for a brighter living space. It's an option worth considering if you are installing a new garage door.