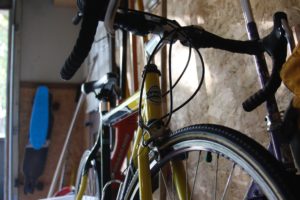 Want to make the most of your garage space? Get your stuff off the floor. When you stack your tools, bikes, and sporting equipment, you'll be amazed by the space you save. Here are some of the best options when it comes to racks to store your stuff and confine the mess.
Bike Racks
If you've only got a couple of bikes, this bike hook from Gladiator through the Home Depot makes a convenient option. Affordable for less than $18, it's an ideal rack for storing a couple of child or adult bikes with minimal space.
If you've got up to four bikes to store, the Saris Cycle Glide is a convenient option that holds up to 4 bikes weighing up to 50 pounds each. Each rack slides out independently so you can easily access each bike. Have more than 4 bikes to store? You can buy additional gliding racks to store a total of 6 bikes.
Tools
One of the best ways to store a variety of tools is the Rubbermaid Tool Tower. Store rakes, shovels, weedwackers, tree trimmers, brooms and snow shovels in the space of a small cubby. Though a bit more expensive, the Flow Wall is an even greater saver on space by turning the walls of your garage into a versatile tool wrack.